Lazer Tactical Action Game Battle Zone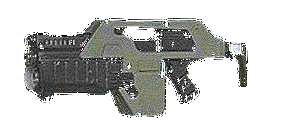 The purpose of this fan site is to highlight and act as a forum for those people interested in the sport, hobby and activity known as "LASER TAG ", or "LAZER TAG". Any and all mention made of "Laser Challenge", "Lazer Tag" and/or "Laser Tag" is not meant to infringe on the rights of the trademark and copyright holder...

Big, Bad, Bruiser B.A.R.T.

This bruiser was modified by adding a plastic cup on top and painting it flat black. A circular mask was first placed over the area of the flashing LED so that it could be seen while firing. On top of the cup, the top part of a STAR WARS (tm) droid was placed, and various other pieces from action figures were placed to add texture. To top it off, stick on decals from various sources were placed to give it a realistic, battle machine look. It really looks impressive as it scurries around. My next project would be to increase the timing range. If anyone out there knows how to increase the range, please email me.
Just some of the boys that met in Seattle, Wa., recently.
Local authorities believe that rebuilting will begin without delay.
I need a bigger gun...
This blaster uses a Electronic Survivor Shot board (mounted in the rear section) with a 10 Amp IRLZ24 Mosfet amplifier circuit to drive a 600 mW OD50L (about $10 each) Infrared LED from OptoDiode Electronics Inc. in California. There is also a LED hit and shot counter display in the back of the gun that dims and lightens automatically depending on surrounding light allowing for more stealth at night. The gun was modeled after a Warhammer plasma blaster and is made of 3" ABS tubing, fiberglass covered 1/8" thick plywood and corregated sewage pipe. The gun is powered by a 7.2V NiCad racing pack which can be recharged through a port on the side of the gun. The 3" lens used is from a magnifying glass made by Tasco with an infrared focal length of 10.5" and was purchased at a Stamp Collecting shop. The gun has a range of about 1100ft and required about 20 hours to build. This was my first long range gun.
Beware: Big long range guns are addicting!

New LC developments

Here is a picture of a modified Ex-D rifle. I'm selling a kit to modifythe Ex-D like in the picture for $15 to generate a range of 600ft to 800ft. (I don't want to say 800ft, even though this was my range, since others may build it wrong and get less range.) I also have finished models for $50 with front and back sensors.

To Contact the maker, Doug Ross

Staten Island Battle Clans
I am in the process of forming clubs, or clans for some private "lazer tag" action, Laser Challenge or Worlds of Wonder "Lazer Tag" compatible format. If you live on Staten Island, New York, or the general area, have friends with the same interest, age 18 to 80 and would like to participate, then email me. Game play will be in the form of scenario games, team play or outright eliminator combat. Staten Island offers many outdoor wooded areas as well as "ancient structures" for EXTREME outdoor action. Please organize and e-mail me to set up your clan and battle dates.

Communications Center

Laser Tactical Action Game Message Board

BATTLE FIELD WEATHER CONDITIONS

Targets Aquired


Free counters provided by Honesty.com.